Blog Archives
Earlier today I went to a clothing swap hosted at Head Games salon, and it was a very eco-friendly way to increase my wardrobe. That got me thinking, what are some eco-friendly ideas for the fabulous salon workers and owners? Here are some suggestions to point you in the green direction, until your salon can run on hair clippings, of course.
Material Girl
Sustainable textiles have made big, fashionable strides more recently, and offer you an array of colors, prints, and textures. Looking for a simple way to update your salon's look? How about organic cotton drapes and pillows? It's true that cotton has a large carbon footprint, but organic cotton doesn't use any pesticides, and the dye used on the fabric is not chemically treated. This means an overall reduction in chemical and toxin production, which is good for everyone. There are other sustainable fabrics out there too, like bamboo, which is anti-microbial, sustainable silk, hemp, recycled cotton, etc.
Red fox screen printed pillow $30
Green Sleeping Birdie Organic Canvas Pillow Cover $29
Black Organic Drapes $44 (64″)
Organic Green Geometric Drapes $44 (64″)
Vintage Beauty
Style withstands the sands of time and can be found at an antique shop or a flea market. You just need an idea or a theme, like rococo, art deco, or purple. I personally like ornate picture frames, picture-less, painted black, and grouped together, you could look for chandeliers, vintage serving trays, clocks, postcards (to put in a fancy, old frame), vintage posters, book ends, antique art, tables, lighting fixtures… The sky is the limit on vintage and antique items. Check out local antique stores and flea markets, click here for a listing of Maine flea markets, and click here for the Maine Antiques Dealers Association's antique dealer directory.
Vintage Mirror $175
Lighting the Way
There have been radical improvements in technology for CFL and LED lights, and they are still always getting better. One way to help shrink your shop's carbon footprint is switch out any incandescent light bulbs, after they have burnt out of course, for the CFL bulbs. If you have a small area or something on your wall you want attention drawn to, try LEDs. Both types of lights use a fraction of the energy of an incandescent bulb, and both last many times longer.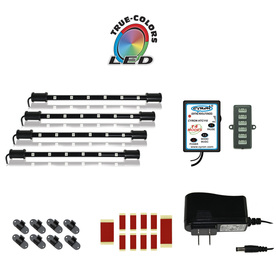 4 Color LED light bars, lights up the wall $49.96
Satin Nickel LED Pendant $44.55
Chrome LED Wall Sconce $19.88
Look for more environmentally friendly updates coming soon!